Mini digger hire guide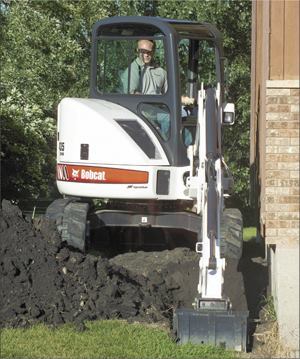 Mini excavators performing offset digging.
Why hire a mini digger?
A mini digger or mini excavator is a type of plant equipment used to perform excavation works. Micro diggers allow for much more efficient digging works when compared to using a spade or shovel. When hiring a mini digger, think about what you will do with the excess soil - hiring a skip can be an option. Excavators come in all sizes, and the term mini diggers covers the smaller-sized ones (from ~0.7 tonnes to ~9 tonnes) and micro diggers is used for the smallest variants. Mini diggers consist of different parts. The house is attached to the undercarriage and can rotate freely with respect to the undercarriage. The workgroup, which refers to the boom and attachment such as a bucket or an auger, is connected to the house through a swing frame that allows the boom to swing independently of the house. This allows for so-called offset digging (see picture). Additionally, there is a backfill blade for levelling and grading. When the soil needs to be compacted, for example when block paving, consider hiring a plate compactor as well.
How to choose which mini digger to hire?
Mini excavators have several characteristics on which you should base your selection:
Operating weight: Gives an indication of the overall size of the mini digger.
Maximum dig depth: Determines the maximum depth the mini digger can dig.
Bucket width: Width of the bucket that is attached to the boom.
Bucket attachment method: Quick-hitch systems that allow for quickly attaching buckets to mini diggers, without having to leave the driver seat of the mini digger.
Width: Important characteristic to take into account when you are going to use the mini digger in locations where access width is restricted.
Cab: When it is cold or rainy, hiring a mini digger with a cab will make your time using one much more comfortable
How can I reduce the cost of hiring a mini digger?
Mini diggers are very helpful equipment for various types of groundworks, but hiring a mini digger is not cheap. Hiring a 1.0T mini digger can cost £75-100 (excl. VAT) per day, and £250-300 (excl. VAT) per week, excluding delivery and potential operator costs. You should take into account the following advice for reducing the cost of mini digger hire:
Shop around and compare prices from multiple hire shops, both local and national hire shops.
Lower delivery costs by hiring a mini digger from a local hire depot. You can find a local hire depot close to your location by using the interactive tool above.
Book online as you will sometimes get a discount that way.
Consider hiring an operator. Because operators get the work done quicker the extra cost of hiring an operator might be balanced by the lower hire costs (shorter hire period).
Make sure you select the right size digger to avoid overpaying for a bigger one you don't actually need.
How wide is a mini digger?
Mini excavators come in various widths, with a minimum width of ~70cm, going up to ~150cm or above.
Do I need to hire an operator when I hire a mini excavator?
It depends on your experience operating a mini digger. As highlighted above, operating a mini digger can be quite difficult. Hence an operator might be much more efficient at the job. Because operators get the work done quicker, the cost of hiring an operator could be balanced by the reduced hiring costs compared to doing it yourself.
What is the recommended safety equipment when hiring a mini digger?
When using a mini digger it is recommended to wear the appropriate personal protective equipment (PPE). Recommended safety equipment for a mini digger consists of the following: safety helmet, foot protection, ear protection and protective gloves.